The Bucket List: What's on yours?
Posted by daveb on April 24th, 2008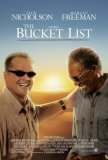 I fell ill in El-Jadida and in-between popping antibiotic pills down my throat, Claire and I watched The Bucket List
, a film starring Jack Nicholson and Morgan Freeman who meet as two dying men who go on write a "Bucket List" (from the expression "to kick the bucket") containing all the unfulfilled dreams they have for life and then set about crossing each one off the list. It's a great film with good humour, some sadness and heart-warming moral and we really enjoyed watching it.
It got me thinking about life's bigger picture. If I was on my deathbed, what would be on my bucket list? And why wait for a terminal illness — what's stopping me from living out my dreams today?
What's on your bucket list?
Filed under Thoughts | Be the first to comment below!