Posted by daveb on May 27th, 2009
We arrived in Western Australia, over five months ago and have travelled (mostly) east though an awful lot of the country: up and across Western Australia, following the Eyre Highway across the Nullarbor; South Australia during the Tour Down Under; sweeping along the Great Ocean Road in Victoria; doffing our caps to the Parliament Building in the Australian Capital Territory; listening to Beethoven in the Sydney Opera House; and joining the masses in treading the well-worn path up coastal Queensland. By my estimates, we've driven over 14,000 kilometres (8,700 miles).
In those five months, I should point out that we skipped over to New Zealand for almost two months which, if you asked me, provided a useful interlude to the extreme Aussie heat. If you asked Squiffy, you'll be left wondering why we bothered! In fact, in these last five months, we've been pretty unlucky with the weather. The heat was in the mid-thirties upon arrival and kept rising and rising until the scales tipped over fifty degrees Celsius in mid-north Western Australia. The extreme heat subsided to all of forty-something as we drove east towards Adelaide; still almightily unbearable given that we were trying to be outdoorsy during the day and sleep under canvas at night. We threw in the towel at Melbourne, left and returned two months later to pickup our trail. The hot weather had indeed subsided and had given way to rain, and lots of it. Things reached an all-time travel low for us as we packed away our sodden tent following Sydney's 1-in-100 year rainfall. We spent a whole day driving up the east coast, through tropical rain the like of which we'd never seen before, vowing not to stop until we found some Queensland sun, or at least a roof over our heads — unbelievably, the latter came sooner. The next day, things brightened up in more ways than one: not only did we spend the majority of our remaining days with a roof over our head, but an enjoyably moderate sun shone upon us until we left the country.
So the question remains: overall, did we enjoy Australia?
Yes we did — and thank goodness that the weather came good in Queensland, else my response might itself have been more tempered.
On the one hand it's quite difficult to critique Australia as a single country by our European standards — it's about the same size as Western Europe and how might an Australian answer the question "what's Europe like?". Each state and territory has it's own flavour, comparing the rugged desert wilderness of Western Australia to the garden state of Victoria or the tropical rainforests of Queensland is akin to comparing Sweden with Spain: it's chalk and cheese, smorgasbord and tapas (oh, wait, that wasn't a good example…)
On the other hand, given that the enormous scale of this country and the natural variations between the landscapes, I'm rather surprised at how similar the people and culture are — countywide. We've travelled mainly coastal Australia and as such haven't spent a large amount of time with the indiginous Aboriginals. It appears that they have all been pushed into the brutal interior, freeing up the coastal land for the immigrant population on which to build their shiny new houses. This country does have a history–some contend that the Aboriginals were the first humans to grace this planet even–but in coastal Australia, you'd be forgiven for thinking that there was nothing here two hundred and fifty years ago.
Outside of the populous parts (or should that be part?) of Western Australia, it still feels really wild and untamed. Cowboy country, if you will. (The Northern Territory probably more so, but we didn't go there so can't comment.) South Australia signals the end to the sparseness of the west and, for the record, we both enjoyed Adelaide. Aside from its admittedly drab skyline, the city boasts a lot of eateries and the Tour Down Under. Victoria is one of our favourite states, not least due to our hosts there. Unfortunately, we didn't get a really good chance to explore Melbourne, but the locals will tell you that it's a more liveable city than full-on, touristy Sydney. We made great friends in Ballarat and their enthusiasm for their state fed ours. Canberra, in the Australian Capital Territory, is becoming a tourist destination in its own right, although we found it a little pricey (visiting dignitaries pushing up prices, we speculate). Surprisingly, we found New South Wales–as a state–to be the most lacking in personality. Sydney is for sure a world class city and, if the weather would have just helped us out a little more, I'd probably be raving about about the rest of the state that we didn't get to see too. Queensland, my personal favourite: for here the weather came good, allowing us to explore what is probably Australia's most popular roadtrip. Fraser Island, as experienced from behind the steering-wheel of a 4×4, is magnificent; so is sailing around the Whitsunday Islands and snorkelling/diving the Great Barrier Reef probably tops them both.
We both love Australia — and we'll certainly be back (if only we could get an accurate weather promise from the Man Upstairs). The Aussies are a super friendly bunch and rightly proud of their country. "How d'you love it? It's better than the UK, isn't it?", they'd ask, as if to coerce a favourable answer. The truth is, I'm really looking forward to getting back to Britain–not long now and oh boy am I wearing rose tinted spectacles when I think about home–but I do genuinely fear that Australia might indeed offer a better standard of living. It's just a crying shame that it's exactly half a world away from the majority of my dear family and close friends. Think Britain with sun, space and arguably more pride and optimism and you'll get an idea of this great country: I give you Australia.
Filed under Australia • Click here to comment, it makes us happy!
Posted by daveb on May 20th, 2009
This entry is our "Out to Lunch" sign: assuming that this post hasn't been superceded by a newer one, you can safely assume that we are currently stretching-out in hammocks or snorkelling around the beach at our mini-resort in the very remote island of Raratonga in the Cook Islands. In fact, Squiffy recently read that the Cook Islands are surrounded by most ocean than any other island in the world.
I'm writing this entry in advance: who knows whether they'll be an internet connection from which we can upload some island photos…? Who knows whether I'll be able to bring myself to the keyboard in what we hope will be one of the most beautiful and relaxing places on the planet…?
We'll be here for just under a week and in the potential absence of being able to upload any blog entries, please accept my apologies and be patient — we'll be arriving back in the UK on the 25th May and, after a day of sleep, will get our notes on the Cook Islands online.
In the meantime, kick back and relax — that's what we'll be doing, in between fighting off bouts of the excitement of the knowledge that we'll seeing our family and friends again soon!
Filed under Cook Islands • Click here to comment, it makes us happy!
Posted by Squiffy on May 19th, 2009
Fed up with tents and hostels, we decided that for our 10 day visit to Brisbane we'd look for a nicer place to stay. Happily, a lovely lady named Kate offered us a room in her Queensland cottage just a few kilometres from the city centre. Since selling the car when we first arrived, we've spent the last few days drinking tea on the patio, walking to the shops in the sunshine and exploring the city.
Brisbane is perfect in winter time, sunny and 25 degrees. The centre has some good things to see, including the landscaped South Bank, Sunday markets, Chinatown and fashionable Paddington. We've taken a river ride on the ferries and driven to the seaside at Manly.
Now we're at the end of our time in Australia, and what a great time we've had. Despite the alternating 50 degee heat and torrential rain, we've had a lot of adventures and fun. Highlights have included Fremantle, the Nullabor, Fraser Island, Great Keppel Island and wreck diving. It's a huge country but we feel we got to see a good proportion, and driving in the outback was certainly an eye-opener.
My calender tells me it's time to leave. Confusingly, the calender says we arrive in the Cook Islands tonight, Saturday 16th, but leave Brisbane tomorrow morning, Sunday 17th. Something to do with the International Dateline me-thinks.
Bye Bye Oz, I'm sure we'll be back.
Filed under Australia • 29 comments »
Posted by daveb on May 18th, 2009
Moments after stepping out of the shark tank, my phone rang: "It's Paula, we're in Brisbane already. Where are you?"
A couple of days ago I had posted a handful of adverts on the internet to begin the sale our glorious and trustworthy car, Don. I had fielded a number of calls from interested parties and indicated that we'd be arriving in the state capital later today. Paula, a German lass had called yesterday from Byron Bay and had indicated to me that she'd immediately leave for Brisbane to be first in line to view. We were still two hours away and so we rushed down a baked potato and set sail southwards. Was this to be our last big(-ish) drive in Don?
Without even stopping to unload our bags at our accommodation, we headed towards our chosen meeting place in an unfamiliar city. Like any city's downtown, there was nowhere to stop and so we picked up our Paula and her two friends from a roadside bench and drove them around the city extolling the virtues of our car. Every time I stopped to pop open the bonnet, a city bus appeared with a head-shaking, finger-waggling driver to move us on. Eventually, we found a quiet spot to change seats and allow our prospective clients a drive. Initially bashful, they mentioned that they didn't need a test drive as they had been in the car as I drove. "Nonsense!", I exclaimed, "you can't buy a car without taking it for a test drive!?"
Needless to say that they were impressed with our machine and so agreed to buy it that night. In fact, if it weren't for us slowing down the deal to the next day (to file the paperwork, you see?) they would have given us a wad of cash for it there and then. Where one roadtrip ends, another on begins: we got a fair price, our trusty backpackers got a great car and now we've got ten days to sightsee Brisbane, which is probably way more than we need. We had initially booked so many days in the city because we thought selling Don might take at least six days of printing up posters, trudging around backpackers hostels and meeting-and-greeting leagues of potential suitors. In a spooky near-repeat performance of when we sold Yoko, our VW camper van, the first people to view our car bought it immediately.
Either we're darn good salespeople, or we massively under price our cars, or we're just lucky. Or a mix of the three…?
Farewell Don, for you have served us flawlessly. If we ever again own a car as comfortable, reliable and as powerful as you are, we'll be stoked! Good luck, old friend, on your new route to Cairns!
Filed under Australia • 2 comments »
Posted by daveb on May 13th, 2009
You'll recall that a few days ago, we were way up in Airlie Beach and heading further north towards the scuba dive site of the SS Yongala shipwreck. Unfortunately, the forecast bad weather forced us to cancel our dive and so we turned on our heels and headed back towards Brisbane. Disappointed that our last dive had been taken away from us, we bagan to research whether there were any other good underwater worlds for us to explore on our way down. There was: The ex-HMAS Brisbane warship had been deliberately scuttled off the coast of Mooloolaba (love the name!) and is now "one of the world's top ten dive sites".
We booked in for a three dive special: one on the wreck, one in the wreck and one in the aquarium over the road (shark tank, you see). So pleased we did, so gutted that we didn't have an underwater camera to show you what we saw. The first dive took us around the exterior of this 100m+ warship and provided an opportunity for us to orientate ourselves with the boat, and our dive leader to familiarise himself with our abilities and, crucially, decide whether he'd let us "penetrate" the wreck on our next dive. We were in esteemed company. There were nine divers on our speedboat and everyone's personal experience ranged from 600 to over 6000 dives. Everyone except us, of course: There's Squiffy with her thirty dives and me with newly qualified fifteen… Clearly we were the ones under scrutiny due to our inexperience. Furthermore, dive leader aside, it appeared that we were the only ones diving with the normal compressed air, the others were using "Nitrox" (a mix of nitrogen and oxygen, allowing longer underwater stays). Oh, and we were the only plebs without our own custom-made, specialised diving equipment: we looked like a couple of happy-clapping tourists tagging along with Navy Seal frogmen on a secret mission.
Suffice to say that the first dive went astonishingly well for us and we were indeed invited to "penetrate his wreck". The second dive was even better than the first and certainly moved the excitement rating up a gear. There's nothing quite like manoeuvring yourself through a tight, dark hole only to be confronted with a thousand fish looking right back at you, no doubt thinking "oh shoot, if that fat bloke can get in here, so can a shark". Spooky.
The visibility on both dives was amazing, over 20m, and we able to get a good view of the wreck. We were surprised by the amount of marine life down there and spotted Lionfish, Batfish, big Kingfishers, colourful wrasse and an octopus amongst other things. It turns out that having El Cheapo hire gear was definitely the way to go. The other feller in our group lost one of his weights and dropped his expensive torch! Three of the experienced divers in our party didn't actually make the second dive, due to sea sickness. I feel quite proud that we managed to get into the water after being bounced around on top of it for long enough to make us both feel quite queasy.
I'm delighted to tell you that the third dive of the day was also the easiest. Back on stable ground we changed our gear and crossed the road towards the Underwater World aquarium and carefully tippy-toed into the huge shark tank. Suffice to say that we were probably the smallest creatures in this tank: Grey Nurse Sharks, Manta Rays, Sharkrays (looks like a shark and a ray – weird !) and so forth. Aquarium-visiting humans walked though the glass tunnel below us, pointed and waved. It was quite bizarre to see people underwater without Scuba gear! Even though diving in the shark tank was a "potted experience", the size and quantity of the "wildlife" made it quite exhilarating. Catching a momentary glimpse of a "big fish" in the wild is usually a fleeting experience, whereas this tank was teeming with human-sized animals (one shark was over nine-foot in length).
Easily our best day diving, ever.
PS Whilst considered harmless, the Grey Nurse does have a mouthful of huge teeth which it opens and closes to breath- Squiffy
Filed under Australia • 26 comments »
Posted by daveb on May 12th, 2009
In this post, I was looking forward to extolling the virtues of scuba diving the SS Yongala shipwreck, billed as "one of the world's top ten dive sites" (curiously, we've already dived fifteen of the world's top ten…) but I'm sad to report that I can't: the forecast adverse weather conditions forced the diving company to cancel our trip. Worse, the longer range forecast showed no sign of improvement over the next week and, as much as we enjoyed our stay at Airlie Beach, we had little appetite to extend our stay.
Upon hearing the news, we spun our car around a hundred and eighty degrees due south and began our journey towards Brisbane, our departing port. A couple of newly created "free days" meant that we could stop in at Ray and Gillian's pad in Hervey Bay along the way and so, prior to arriving, we celebrated our last night of camping by really roughing it: a AUD$15 (£7.50) camping pitch amongst some rather insalubrious tenants in the middle of nowhere. We didn't even bother to "make the bed" (i.e. move our bags out of the boot, fold down the seats and inflate the air bed), choosing instead to adopt the old "Nullarbor position": Squiffy stretched out across the back seats whilst it was economy class aircraft style in the front passenger seat for me (with a towel instead of a blanket, obviously).
Thanks again to Ray and Gillian for rescuing us from another couple of nights of camping and their hospitality. It was a real shame that we didn't get to dive the shipwreck as we've met quite a handful of people who've experienced it and said great things (apart from how strenuous it was!). We'll add it to our list of things to do on our return to Australia (along with the Ningaloo Reef dive during the Whale Shark season).
Filed under Australia • Click here to comment, it makes us happy!
Posted by daveb on May 11th, 2009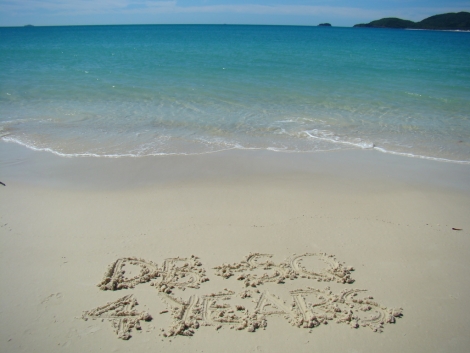 Can you believe it? Claire & I recently celebrated our fourth anniversary together. Even more amazing is the fact that we've now been travelling together, in each other's company 24×7, for longer than we actually lived with each other in London — and we're still on speaking terms!
My mother warned me that, with Claire, it'd be "an adventurous courtship". She was not wrong!
Filed under Australia • 4 comments »
Posted by Squiffy on May 8th, 2009
After a splendid day spent sailing around the Whitsundays yesterday, Dave and I were looking forward to going beyond the islands to the Great Barrier Reef proper. Our chosen vessel, Seaflight, would take us on a three hour journey across the shipping channel to Knuckle Reef, 95km offshore and part of the main GBR.
After another early start, we boarded at 8am, climbed to the top deck of the large motor vessel and began the day with a cuppa. About an hour into the voyage, the captain warned us that we were approaching the notoriously rough channel and everyone should stay seated. As suggested, the swells made the ride quite uncomfortable and I watched Dave turned darker shades of green, until he eventually ran to the toilet to throw up. Poor thing wasn't alone, paper bags were being handed out and used all around the boat.
By mid-morning we had arrived safely at the reef and moored alongside the permanent pontoon. Everyone seemed eager to leave the boat and climb aboard the pontoon, the like of which I have never seen before. This thing had two decks, sun loungers, a diving and snorkelling area, underwater observatory and even a water slide! Before getting wet to view the marine life, we took a trip on the semi-submersible vessel, from which we saw the corals and plenty of Sergeant Major and Parrotfish.
A little disappointed by yesterday's snorkelling, we were keen to see what the Great Barrier Reef had to offer. As we followed the designated snorkelling area buoys, we saw little at first. Happily, as we got to the outer edges we came close to a shallower reef, home to abundant sea creatures including the beautifully coloured Parrot fish, tropical looking Butterfly fish and some we have yet to identify. I was so impressed that I returned to the ship to buy a disposable underwater camera, after my digital camera died taking photos of turtles on Great Keppel Island. Fingers crossed we got some decent shots (although we have not yet developed the film, so can't show you the underwater photos here). Dave and I hung around the reef watching the fish come and go, diving down to see them more closely and check out the Giant Clams. Just after I returned to base due to the inevitable cold, Dave saw three Maori Wrasse, very big fish often seen in this area. Typical I missed them!
In between our snorkelling trips we sunbathed on deck and indulged in the three lots of food served throughout the day. What better way to spend our fourth anniversary together?
Filed under Australia • Click here to comment, it makes us happy!
Posted by daveb on May 7th, 2009
Unlike chartering your own yacht in New Zealand's Bay of Islands, sailing yourself around the Whitsunday Islands in Queensland is prohibitively expensive and so we opted to join a tour on a monster-big catamaran. A 26 metre (85 feet) lilac-purple one at that!
Those who know me well know that I'm not a great sailor — sail boats are much more Squiffy's thing. I don't much like the lean of a single-hulled yacht, the ropes and metal thingos on which to stub one's toe are ever-present, whilst the required wind is not. What a difference being on a large catamaran (with crew) maketh! Almost no lean, oodles of room on which to walk or laze about, morning tea with cakes, barbecued lunch, afternoon snacks and–wait for it–unlimited access to the beer Esky! Yes folks, this is the life indeed.
We stopped for a snorkel just off a private beach on Hook Island, but frankly shouldn't have bothered: we weren't the only vessel to decant our passengers onto the shallow coral reef and some–quite a few actually–couldn't find it in themselves to heed the "don't stand on the coral" message. What followed was quite a horrific mass-murder of two-million year old aquatic life by clueless children, inept adult swimmers and first-time snorkellers. The visibility underwater was so bad, that Squiffy and I resigned ourselves to the fact that we had signed-up for a sailing trip, not a snorkelling one. Still, I suppose it's better that the tour companies bring all their clueless guests to the same spot to trash the same coral: better that than trashing a new piece in a different location every day — in that way there'd soon be nothing left… After the safety boat had rescued all the bodies, noodles and float boards, we set-off towards Whitehaven Beach, the most famous white-sand beach in the Whitsundays.
It's still marine stinger (read: killer jellyfish) season here in Queensland, so most people donned 'stinger suits' to reduce the risk of death. There's nothing quite like a relaxing swim in Australia, is there? If the sharks don't get you, the jellyfish will. (If you do make it back to shore alive, the local 'Death Adders' will explain their name to you.) Still, seeing everyone in black, full-length bathing suits was kind of reminiscent of the Muslims on Morocco's beaches. Whitehaven Beach is, as all the postcards show, a supremely beautiful beach and after and hour and a half of making footprints and tentatively wading into the killing waters, it was time to return to the boat for yet more food, beer and a darn good sail home.
What a great day out we had. What a great crew who made it for us — I didn't even have to pull a single rope. And what a great boat it is, just such a shame that it's purple. As far as sailing goes, I've discovered that large catamarans are much more up my street — just need to find £2 million to buy one (in baby blue, of course).
Full marks to the team at Cruise Whitsundays for the wonderful day out. Aside from the snorkelling travesty, we had an exceptionally enjoyable day — and I've learnt that not all sailing sucks! Better start saving up for a big cat (and crew)…
Filed under Australia • Click here to comment, it makes us happy!
Posted by Squiffy on May 6th, 2009
Ever since I first visited Florida as a child, the image of palm trees always stirs my memories of exotic holidays and far away places. I love tropical holidays and couldn't wait to see my first line of palms in Queensland, signalling I had arrived somewhere that was likely to have sun, sea and snorkelling.
I wasn't disappointed when our ferry pulled up to Fisherman's Beach on Great Keppel Island. Only 30mins by fast-cat from the mainland, I expected it to be more rugged than tropical, but was delighted to step off the boat onto a sweeping white sandy beach, lapped by clear turquoise waters and fringed by – you guessed it- swaying palms, alongside native gum and fig trees. Even the birds were exotic, with plenty of colourful parrots and lorakeets.
The big resort on Great Keppel is currently closed for ongoing renovations, leaving just a handful of small accommodations and making for a real sense of being on a deserted island. We chose to stay with Geoff at the Holiday Village, a small camp of permanent tents set just back from the beach among the trees. For a reduced price, Geoff allowed us to pitch our own tent and kindly furnished it with mattresses and a lamp – luxury.
Our three days were spent reading in hammocks, eating pineapple, lying on the beach and drinking sundowners by the sea. The highlight of our trip was snorkelling on the reef just off Shelving Beach, where we saw lots of fish including a small Epaulette Shark. Of course, the best spot was a Green Turtle, who we spent several minutes observing before s/he swam off into deeper waters. That really made my day ;o)
We managed to get some reasonable underwater photos, including of the turtle if you want to take a look. They're better than previous attempts I promise, and it may be the last lot we take as my underwater camera developed a leak and is now sadly out of action.
Other than underwater life, we encountered a few possums and lizards, and I came very close to stepping on a deadly (?) snake on our way to the pizza restaurant. Just what you need on a remote island with only one ferry a day. All in all, we had a great trip and would highly recommend a visit to see Geoff, who will warmly welcome you to his island!
Filed under Australia • 2 comments »