New Zealand: Weather dependent
Posted by daveb on March 30th, 2009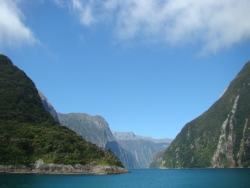 We've left Auckland and are headed back towards Melbourne in the hope that the Australian weather has cooled quite significantly from when we left it in the mid-forties, nearly two months ago. Before we pick-up where we left off in Oz, I thought that I'd take a few moments to record my thoughts and feelings on New Zealand.
We've packed an awful lot of memorable experiences and activities into our two months here. It seems like such a long time ago that we were mountain biking in Christchurch and swimming with dolphins in Akaroa. Or staring into the blue-green waters of Lake Tekapo, or walking at the base of Mount Cook, cruising through Milford Sound, throwing snowballs during our helicopter landing on Fox and Franz Josef Glaciers. We've got cold, wet bottoms sixty-five metres underground in the Waitomo Caves. We've been sailing and shipwreck diving in the Bay of Islands. And, after handing-back the keys to our diminutive hire car, we were wrapped to spend a few nights in a semi-swanky hotel in downtown Auckland.
Mostly, the weather stayed warm and dry just long enough for us  to undertake these activities. It hasn't all been sunshine though. Not by a long stretch. Bad weather forced us to abandon our proposed hot air balloon flight. The southern scenic route was a washout and so were two of the three days we spent in Queenstown. We spent a day trudging around the Marlborough wine region in the pouring rain. The heaviest downpour sealed our decision to leave the south island sooner than planned. And don't get Squiffy started on the innumerable roadworks…
For us, camping is a means to an end. Notwithstanding the fact that we have met some really great people at campsites, if money weren't a consideration we'd take a hotel room over a car-boot, tent or even a top-of-the-range motorhome anyday. And when it rains, campsites become something close to zero fun. Squiffy and I have spent countless hours in rural camping grounds in our hire car, either sitting up-front or laying down in the boot with the rear seats folded down, waiting for the rain to stop just long enough for us to leg it to the toilet or the kitchen.
You see, fabulous as this country is, New Zealand is a really outdoorsy place — almost every tourist experience is shaped by the great outdoors and therefore at the mercy of the prevailing weather. Australia has a similar outdoorsy feel and that's fine because it's always warm and dry (sometimes too hot…). New Zealand on the other hand, has a maritime climate more similar to Britain's than you'd imagine. And that was precisely from where our problems stemmed: our enjoyment of each was almost completely at the mercy of the day's weather. During our tour of the south island, we chatted to many a local who commented that it had been the worst summer in memory. Tell us about it!
An average non-activity (driving) day would go something like this:
Awake in the titchy hire car boot to the not-so-gentle sound of rain-fingers drumming on roof of car.
Cross legs for an hour until the rain calms-off a bit, allowing you to run for the campsite toilet and shower block.
Skid around on wet, muddy floor of toilet block. Curse the wet, muddy shower cubicle floor on which you've just dropped your clean pants. As you bend down to pick-up your pants, you drop your clean towel onto the floor.
Huddle outdoors under picnic table umbrella/shelter with other campers. Consume three 'Weet Bix' and one cup of tea for breakfast.
The rain eases, so time your movements back towards the 'microcamper'. Convert bedroom back to car, i.e. return back seats to upright position, move all bags, boxes, deck chairs and tables from front passenger seats, central console and dashboard back into the boot. Marvel at how you managed to fit all of this stuff up front, creating enough room for two humans to sleep in the back.
Take-up driving and navigation positions in the front seats.
Snap fingers and watch the rain restart, like clockwork.
Drive between four and eight hours through the rain, barely seeing the otherwise jaw-dropping scenery supposedly around each corner.
Arrive at campsite in new location. Remain in driver/navigator positions and twiddle thumbs until the rain subsides.
Convert car to bedroom-mode. Once again marvel at how it's possible to fit two large rucksacks, one table, two deckchairs, camping stove, washing up bowl, plates, bowls, utensils and a large coolbox into the front two seats, footwells, central console and dashboard.
Carry utensils and coolbox towards camp kitchen. Refrigerate essential items, being careful to mark any fridge bags with names and departure dates.
As night falls, sigh as the rain comes in.
Return to car. Contort into pyjamas and sleeping bags. If over 5'10", sleep in an 'S'-shape, with head touching back of driver seat and feet touching the boot hatch. (If you detect that your head is lower than your feet, then rotate sleeping position.)
Fall to sleep. listening to the drumming of rain on the steel roof.
All in all, I'd highly recommend New Zealand as a tourist destination. It's got some really wacky sights and experiences in between some very sleepy towns–it's no wonder they throw themselves off bridges with elasticated cords–all mixed-up in land mass roughly the same size as the UK.
My advice for potential New Zealand holidaymakers? Be prepared to spend some quite serious money on accommodation, or least a half-decent motorhome (I recommend a long-wheelbase Transit-van style or bigger) — loads of people hire out smaller camper vans (MPV-size), but if you can't stand up in it, it's no better than camping in a small car when the rain comes in. We only met one other couple camping in a small estate car like ours. The nutters. Oh, and one final thing, for gawd's sake: check the very long range weather forecast before you book your airfare…
Filed under New Zealand | Be the first to comment below!